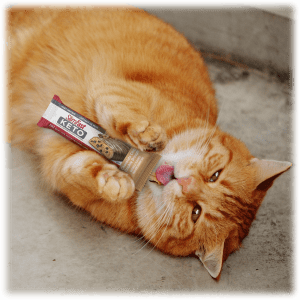 $0.50 per bar
Keto friendly bars of faux cookie dough
You get a total of 40 bars
3 grams net carbs and just 190 calories per serving
MCTs from coconut oil, which might energize you/curb your appetite
Kind of a bunch of em
Check out the specs for nutritional info, and other useful facts
Model: 008346861316, 008346874590, a billion numbers, no letters, because SlimFast really means business here
Spend Dough, Get "Dough"
What a relief it must be for every aspiring vegan when they realize they can eat a peanut butter and jelly sandwich. Like, seriously, even the super committed have to have those nights where they don't want to make the cashew cheese, they don't want to cook the tofu, don't want to prepare the cauliflower steaks, and so on. So they grab a loaf and a couple jars, and viola, dinner!
Why are we talking about vegan food when we're selling Keto SlimFast bars? To illustrate that every diet has the same issue. Eventually the honeymoon period ends. Looking up recipes on speciality blogs stops being exciting and starts to become a chore. And when 2pm rolls around, and you just want a friggin' snack, the last thing you want to do is preheat the oven and whisk together a quick marinade.
Some would argue that this is maybe more of a feature than a fault. Diets replace the softer, more malleable question of "Should I eat this?" with its firmer, more definitive cousin: "Can I eat this?" I.e. it's not your decision; it's a matter of law.
Still, there are times when the food craving hits while you're wandering through the desert known as 'between mealtimes' and you just need SOMETHING to keep you going. Or when you hit snooze a few times and so your grand plans to make an elaborate omelet before you hop on your first Zoom call of the day are out the window, and instead you could use a breakfast whose prep work involves tearing open a wrapper.
These could be that!
We say 'could' because as with any diet product, it really depends on you. All we can do is give you the facts as we understand them. Which are as follows: each one of these things have just 3 grams net carbs and 190 calories per serving. They've also got those coconut oil MCTs, which is maybe a phrase that makes sense to you already. But if it doesn't, our cursory research tells us that MCT oil is something that gives you a bit of energy and maybe curbs your appetite.
So yeah, those are the important details. Of course, if you've had these before (or if you've got things to say more generally about the Keto diet and/or MCTs) definitely hop into the comments and help folks out.
In conclusion, they taste like cookie dough, and that's kinda fun, right?
This content was originally published here.